The Vinnies Christmas Toy Appeal
| | |
| --- | --- |
| Donate toys to The Vinnies Christmas Toy Appeal | |
These generous gifts will be delivered by Simply Giving to Vinnies centres to be distributed to children of families living in poverty in time for Christmas.
About The Vinnies Christmas Toy Appeal
Christmas is not always a time for giving and receiving. For many children experiencing disadvantage, Santa doesn't come and parents don't have the opportunity to give gifts to their children or indeed to receive them. At Christmas Vinnies members and volunteers, through the generosity of our supporters, spread a little magic at this special time of year by providing families in crisis with Christmas gifts and necessities.

We invite you to join the Vinnies Christmas Toy Appeal and light up the face of a young child on Christmas morning. Your donation will make a huge difference to the lives of Australians experiencing disadvantage.

About The St Vincent de Paul Society "Vinnies"

The St Vincent de Paul Society (Vinnies) in Australia has more than 40,000 members and volunteers, who work hard to assist people in need and combat social injustice across Australia. Last year alone, Vinnies helped over 2 million Australians in need through the delivery of hundreds of programs to address homelessness, domestic violence, disadvantaged youth, mental health and disaster recovery.

Vinnies offers the hand of friendship to anyone that needs help but also aims to implement strategies that will effect real and long term change. Please help Vinnies restore hope this Christmas. For a full list of services visit www.vinnies.org.au
Please help Vinnies change lives this Christmas

Please select your company to donate a toy as part of your company's gift drive in support of The Vinnies Christmas Toy Appeal.
How it works?

Why donate toys online?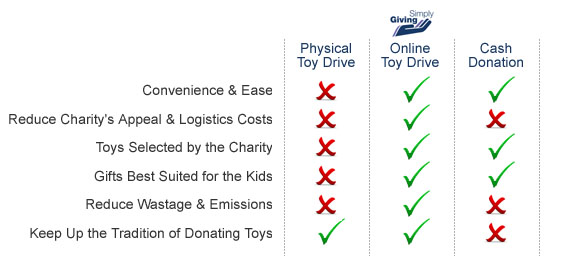 | | |
| --- | --- |
| Donate toys to The Vinnies Christmas Toy Appeal | |
----------------------------------------------------------------------------------------------------------------------------------------------
Simply Giving is Australia's most used and trusted online toy drive facility, bringing convenience and cost-savings to the giving process. Read more at www.simplygiving.com.au.